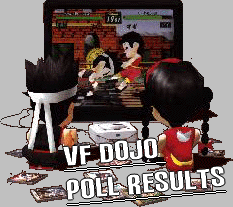 Last month I asked you what feature would you like the most in the VF5FS port? A good 68 of you readers voted. It seems the most important thing to you all was having a good training mode, character customization, and a story mode.
While a story mode is more than unlikely to happen...
VFDC has confirmed
that we will indeed be getting a VF4 Evo training mode AND over 14,000 items for customization (DLC). Here are the full results.
Story Mode
14 (20%)
Quest Mode
5 (7%)
Specating Online Lobbies
4 (5%)
Tons of character customization
19 (27%)
A VF4 Evo styled Training Mode
25 (36%)
Other
1 (1%)