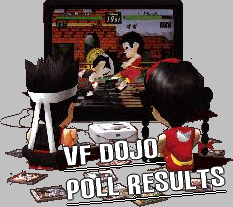 The monthly poll has been updated but it's time to look at the results of the previous poll. I asked "If VF5FS comes to console will you switch your main?". You all voted and here are the results.
Yes but I'll keep my old main as a sub
8 (30%)
Yes and sub a new character too
5 (19%)
Maybe
4 (15%)
No I'm sticking to my main
8 (30%)
Other
1 (3%)
Majority of you guys are attached to your main. I too will be keeping my main... but I really want to give Taka a try!